Tackle the Trails in a 2021 Chevrolet Silverado Trail Boss
Chevy offers two different Silverado trucks with the Trail Boss designation: the Custom Trail Boss and the LT Trail Boss. The Custom Trail Boss is a bit more affordable than the LT Trail Boss, but also has fewer standard and optional features. Both of these have several enhancements to make them perfect for taking on rough and tough adventures. You can find either of these trucks in our inventory at Bill Gatton Chevrolet.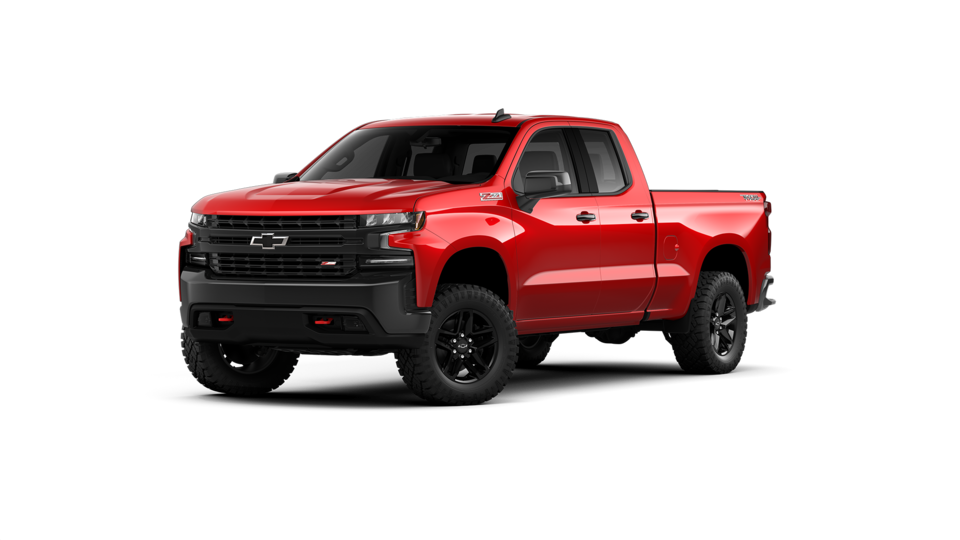 Rugged Performance
The Custom Trail Boss has three engines to choose between, from the 4.3-liter six-cylinder engine to the powerful 6.2-liter eight-cylinder with a ten-speed automatic transmission. You can get the engine you need for the job, with even the 4.3-liter engine generating up to 285 horsepower and 305 pound-feet of torque, giving it a maximum towing capacity of 7,900 pounds.
The LT Trail Boss only offers a 5.3-liter eight-cylinder and the 6.2-liter engines, both paired with a 10-speed automatic transmission, ensuring you get optimal performance. The 6.2-liter engine produces the most of all three of the engines mentioned here with up to 420 horsepower and 460 pound-feet of torque. With all that power, you can tow up to 13,300 pounds across Johnson City, TN.
The Z71 Suspension package is included with both Trail Boss models, and that's one of the things that sets them apart from the other Silverado models. This gives them a two-inch factory lift and improved approach and departure angles to make rocky trails a breeze.
In the Truck Bed
Both Trail Boss beds come with a power tailgate that opens smoothly, and the door is light enough to close with little effort. The bed is lined, so you don't have to worry about scratches, and there are plenty of tow hooks to go around. On the LT Trail Boss, there's even an AC plug, so you can run a power tool or anything else you need around Jonesborough, TN.
The LT Trail Boss can handle a bit more weight from its payload at 2,185 pounds, compared to the Custom Trail Boss at 2,085 pounds. You can get the same cargo space inside the bed in both, though. 62.9 cubic feet should be plenty for just about anything you need to store back there. If it's not, there's some extra storage on the inside of the cabin.
Interior Storage
In the front of the Custom Trail Boss, you have the option for either a bench seat, or you can fold down the center arm rest and storage cubbies. On the LT Trail Boss, you won't get that flexibility, instead just having a center armrest. This does mean that the storage can be more extensive and deeper.
Moving to the back of the cabin, both trucks have flip-up seat-bottoms, allowing you to fit even more cargo inside, or you can keep them down if you need room for passengers. A useful feature on the LT Trail Boss that's missing in the Custom Trail Boss is the under-seat storage. This might not seem very useful, but it helps prevent things from sliding around when you hit the brakes or take a hard turn.
Technology
The Custom Trail Boss is going to be more barebones between these two trucks, so you'll probably want to pick up the LT Trail Boss if you want plenty of entertainment features on your Elizabethton, TN drives. However, both trucks come with Apple CarPlay® and Android Auto™ standard, although the LT Trail Boss can get these wireless. The LT Trail Boss also has a slightly larger color touchscreen than the Custom Trail Boss at eight inches versus seven.
Choose Your Adventure Truck in Bristol, TN
Both of these trucks offer a stellar experience and a lot of fun-factor. Which you pick will be a matter of what features you want. The Custom Trail Boss offers a simpler ride for anyone who just wants a capable truck to take off-roading, but the LT Trail Boss enhances that with better entertainment options and some general enhancements across the board.
Schedule a test drive with either of these trucks at Bill Gatton Chevrolet to see which one you resonate with the strongest!
Looking to Test Drive a Trail Boss? Let Us Know!
* Indicates a required field